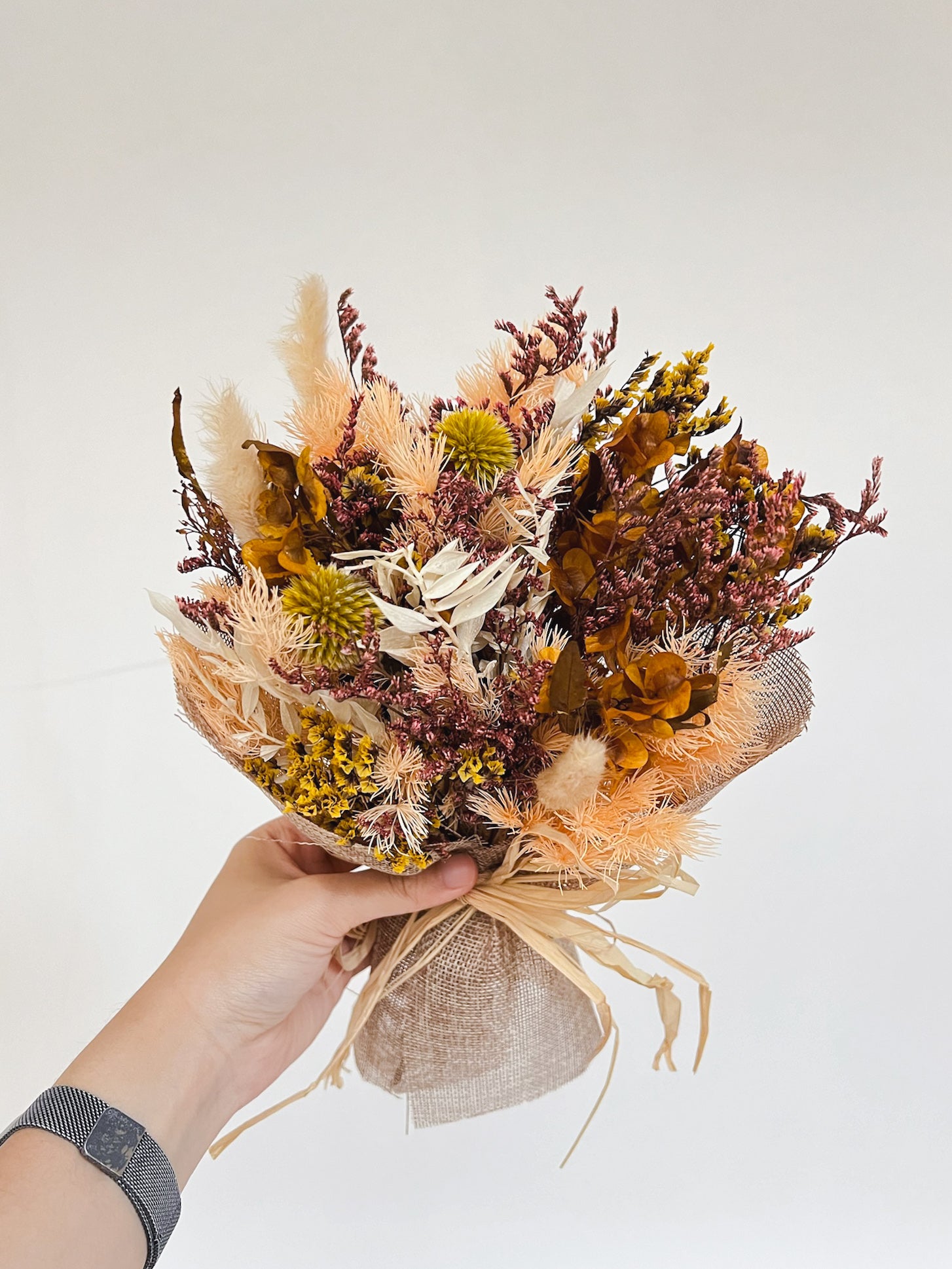 Christmas 23 // Solstice - Red, Yellow and Peach - Preserved and Dried Flowers Bouquet
Introducing our Solstice - Preserved and Dried Flowers Bouquet - a stunning preserved flower bouquet that captures the timeless magic of Christmas. Each bloom in this exquisite arrangement has been carefully preserved to retain its beauty and vibrancy, allowing you to enjoy the festive spirit year after year. Adorned with rich reds, lush peace, and glistening yellow accents, this bouquet exudes the warmth and joy of the holiday season.
The Solstice - Preserved and Dried Flowers Bouquet features a curated selection of preserved flowers. This enchanting arrangement is perfect for gracing your holiday table, adding a touch of elegance to your décor, or gifting to someone special.
With its enduring beauty, this bouquet becomes a cherished keepsake, a reminder of the joy and wonder of Christmas. Bring the magic of the season into your home with the Solstice preserved flower bouquet. Embrace the spirit of Christmas, preserved in everlasting splendor. 
In light of the Israel-Hamas Conflict, we will be donating 5% of our Christmas Collection Proceeds to Red Cross. Support our cause by purchasing from our Christmas Collection!
Product size: 30cm (H) x 20cm (W) 
Our prices are inclusive of FREE standard delivery!
Earliest Delivery Timing (SGT)
Mon-Sat
Order by 7.30am, for delivery between 10am-2pm (same day).
Order by 12.20pm, for delivery between 2-6pm (same day)
Order by 3pm, for delivery between 6-10pm (same day)
Sundays
Order by 7.30am, for delivery between 11-3pm (same day)
***No night deliveries on public holidays!***